So I was asked what my favorite webseries was and to explain myself so... Here goes nothing! :D Hope you all enjoy.
As most of you know I have watched many and loved and obsessed over many and all that jazz yet the one that has caused the most emotions and obsession feels everywhere, that is one of my favorite things on earth is...
Nothing Much To Do!!!
https://m.youtube.com/playlist?list=PLZ4M4eic7acSLgM6Fs_VYWafCgwIByldy
Basically it's a webseries based off Much Ado About Nothing by William Shakespeare and it is freaking brilliant. I quite enjoyed the play it is based off, but this is infinity times better. The acting is phenomenal. Seriously, some of the best acting I have seen in my life. I have seen many movies, tv shows, plays, et cetera- but this is the absolute best. I can not even describe my love for the show. So, instead I will tell a story, that will take you through my experience watching the show. :D
Episode 1- Eh. Kinda good I guess. I might continue.
Episode 2: HERO WAS READING TFIOS I LOVE THIS YES
Episode 3: WAS THAT BENEDICK OH MY GOSH IT WAS HOLY FLAJIN *faints*
Episode 4: Hmm... I think this Ursula fits up to my standards...
Episode 5: YESH I LOVE THEM YES YES YES I DO NOT EVEN CARE THAT THEY SWITCHED GENDER FOR HIM
Episode 6: BENEDICK. HE IS PERFECT. AND THEY ARE BOTH SO MEAN TO EACH OTHER IT IS BRILLIANT.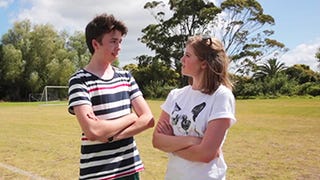 Episode 7: YES I LOVE IT GIVE ME MOREEE *crazy eyes*
Episode 8: OH MY DEAR LITTLE BENEDICK GOT HIS OWN VLOG AND HE IS SO FUNNY AND I HAVE NEVER LIKED HIS CHARACTER BUT THIS IS JUST PERFECT.
Episode 9: WHAT!?!? BEATRICE HOW COULD YOU NOT LIKE THAT!?!?!? THAT WAS THE BEST VIDEO EVER. UGHHHH.
Episode 10: Oh these adorable little freaking galahgug FLAJIN gufcughggucttyfuxugfcuhguhkvyfj Benedick is perfect being English. YES.
Episode 11: BEST. EPISODE. EVER. OH MY GOSH I LAUGHED HARDER THAN I HAD IN MY ENTIRE FREAKING LIFE I SWEAR. Claudio is quite nice but he is nothing compared to Benedick ;) And CLAUDIO SAID BILLIE PIPER? AND BENEDICK SAID NICE BUT HE PREFFERED CATHERINE TATE AND BILLIE PIPER ONCE PLAYED HERO AND CATHERINE TATE PLAYED BEATRICE I CAN NOT DO THIS GAHH.
(Actually, if you just wanna watch one episode to convince you to start at the beginning and watch them all, watch this one: https://m.youtube.com/watch?v=B1yRls2vUIs&list=PLZ4M4eic7acSLgM6Fs_VYWafCgwIByldy)
Episode 12: Aww Pedro you are very nice... But WHEN DO I GET MORE BENEDICK!?!?
Episode 13: And this is the moment where I became fully in love with Benedick... As in can we get married: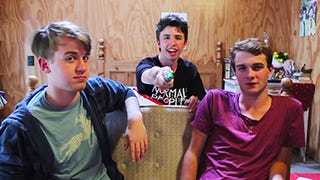 That is him in the middle with a sonic screwdriver. HE HAS A SONIC SCREWDRIVER OH MY
GOSH YOU LOVELY BEING I LOVE YOU SO MUCH OH MY GOSH YOU WIN AT LIFE.
Episode 14: I like this Leo :D Nice and protective *pats on head*
Episode 15: That was slightly creepy Benedick ;) But hmm... Wonder why that small thing affected you so much ;D
Episode 16: Beatrice just gonna say... You are brilliant. Benedick should watch this, he might learn to respect you as I now do.
Episode 17: WHAT THE HECK BENEDICK!?!? Wally *snorts* YOU CALL WALDO WALLY!?!? By the way, please never do an American accent again. Ever. Again. Yeah.
Episode 18: YES. HERO READ BENEDICK'S QUESTION AND BEATRICE SAID INTERESTING QUESTION CAUSE SHE DID NOT KNOW IT WAS FROM BEN. IF SHE HAD KNOWN SHE WOULD HAVE SAID THE QUESTION WAS STUPID. FLAJIN BEATRICE. FLAJIN.
Episode 19: NO JOHN NO I HEARD YOU TALKING ABOUT HERO WITH CORA YOU EVIL EVIL EVIL EVIL JOHN.
Episode 20: What the what!?!? Pedro!?!? No...
Episode 21: What the hell Benedick!?!? Batman!? Oh god... Ben, you have reached a new low.
Episode 22: Ben, dear. When you are drunk um... You probably shouldn't film. This makes you look horribly stupid. But I will say you are the most hilarious being ever so I'm not complaining.
Episode 23: Aww Claudio :'( You even came as a cowboy cause you saw what Hero said in the video :/ BENEDICK GET YOUR HEAD TOGETHER AND SUPPORT YOUR FRIEND.
Episode 24: NO I WANT TO SEE THE CONVERSATION :/
Episode 25: Hmm... Then why did Claudio seem so sure of it??
Episode 26: PEDRO I AM SO SORRY BEATRICE WAS EXTREMELY CRUEL JUST THEN... :'(
Episode 27: UGH. I KNEW JOHN HAD SOMETHING TO DO WITH THIS. Tip: Lighten up, Beatrice.
Episode 28: They're nice and adorable together, I'm happy for both of them :D Was a bit to long though... I really don't need to see bloopers. Yeah.
Episode 29: Aw Benedick, can't you just be happy for your friend? :p
Episode 30: I feel a bit bad for Benedick... But you're being a bit close minded, dear. Open your mind, Benedick. XD Claudio was gold in this episode though.
Episode 31: HOLY FLAJIN HOLY FLAJIN IT IS COMING EVERYTHING IS STARTING HOLY FLAJIN YES YES YES YES YOU GENIUSES OH MY GOSH YES,
Episode 32: Beatrice, just you wait ;)
Episode 33: YESH YESH YESH FLAJIN FLAJIN. UNDERSTAND IT BENEDICK. UNDERSTAND IT.
Episode 34: FEELING OVERLOAD ALERT. THAT ENDING WHERE HE SAID THE NAME OVER AND OVER AGAIN. YES.
Episode 36: HEGJDEBVKJEDBVHIDEBVHDEGVHIDEBVHIDFGHGVIJDEBVJVDBEJIVBREJIVBDEJIVVBEJJDKVBIJEDBVJDEBVJJKEDBVJKEFBVJKEFBVJKEFBJVKJBDSJKVBDEJKVBJDSKVBBJKEDBBVKJSDBVJKDSB I CAN NOT EVEN TYPE THINGS ABOUT THIS AWESOMENESS FOR BENEDICK OH MY HEART BUT I FEEL SO BAD CAUSE SHE IS JUST BLEH SO THIS EPISODE IS PERFECT AND HORRIBLE BUT MORE PERFECT.
Episode 37: BEATRICE, BE NICE.
Episode 38: Her reaction was done brilliantly but I can tell she is going to be exceedingly rude :/
Episode 39: Bahahaha this was BRILLIANT!! Poor Benedick though :(
Episode 40: BALTHAZAR YOU ARE GREAT.
Episode 41: I see Beatrice has made up her mind :( Good trickery though ;)
Episode 42: I literally fell out of my bed when she said Ben- then she finished the sentence saying Benedict Cumberbatch -_-
Episode 43: I THINK I SHIP IT IF THERE IS AN IT TO SHIP STOP ESSING WITH MY HEAD
Episode 44: Reading is better than filming, I agree Beatrice.
Episode 45: THE SHERLOCK THEME IN KAZOO YES.
Episode 46: Don't give up hope Benedick :'(
Episode 47: OH MY GOSH XDDD YESSS
Episode 48: NOOO JOHN YOU STUPID STUPID BLOOODY IDIOT UGH NOT EVERYTHING STOP NOW.
Episode 49: It is starting... Someone help me. Please.
Episode 50: Oh my gosh no I can't please stop this
Episode 51: Someone needs to show this to Claudio. RIGHT. FREAKING. NOW.
Episode 52: *screams at screen* NO NO NO YOU FREAKING IDIOTS NO UGH NOO
Episode 53: GIVE ME COOKIES NOW PLEASE : D
Episode 54: Keep up the good work! :P
Episode 55: HELL. NO.
Episode 56: At first all I was thinking is "damn look at Benedick in that suit" ;) and then things happened... There was a trigger warning at the beginning of the episode and even though I knew what was coming I did NOT expect it to be that harsh. I seriously started sobbing and it just hit me straight in the stomach like a knife. So just a little more warning. Though I will say Benedick was pretty nice at the end ;)
I am eagerly awaiting the next episode. Please let me know what you think and if you are going to watch it. I will do anything at all for you if you watch it, I swear.
Love ya all!
Griffin
P.S. MORE PHOTOS HERE:
http://thecandlewasters.tumblr.com/post/95651497254/nothing-much-to-do-gold-star-facial-expressions
http://www.tumblr.com/tagged/nothing-much-to-do (most of these apply)
Edit: Episode 57 was released today.
My reaction:
BHSBYSBYSVYGSYGVSYFCYGSVGYSVYGSVGSVFYSVYVDFYVSYGVSGYVSGYVSYGDVYGSVGGYDVGYSVYGSVGYSVYGGSVGSYGVSYGVSGYVSGYVSUGSVGYCDFYVSUGVGYSVGYSVGYXVYG I CAN NOT DO THIS BUT WAIT WHERE IS HERO AND BENEDICK OH MY AND LEO GO TO FREAKING HELL I HATE YOU I HATE YOU AND THEN THE END AND SHE IS CRYING AND I KNOW WHAT IS GOING TO HAPPEN AND I NEED THE NEXT EPISODE FLAJIN FLAJIN FLAJIN
Edit: YOU HAS TO WATCH THIS VIDEO. IT WILL CONVINCE YOU TO WATCH THE SHOW.